Confessions of a Collector
9/1/2015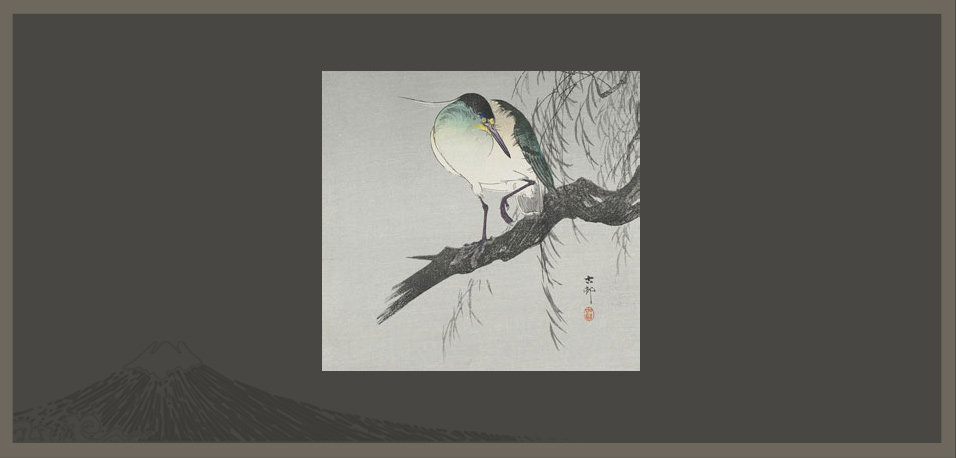 By Michael O'Clair
I first became interested in Japanese prints while I was in law school in New York City. There was a small gallery near my apartment on the Upper East Side. It was a wonderful place to take a break from studying and look at pictures instead of reading. The gallery owners, Lorraine Levitt and Sally Pleet, were patient and willing to help me learn about prints. Along the way, they sold me a few prints too, including my first print, by Shoson, which I bought as a gift for my mother's 50th birthday. That print, a Shoson depicting a night heron, and several more prints on different subjects are hanging in her house today.
In those pre-internet days, learning about prints meant talking to dealers or collectors, going to galleries and museums and reading books. Back then, I bought far more books than I did prints; I still do. Even though the internet is a tremendous resource for identifying prints and looking at prints, I still find books useful. More likely than not, it's nostalgia for the printed page that drives my book buying. My library of books on prints is still growing. I read whatever I can on the subject. If the catalog or book is exclusively in Japanese, a language I cannot read, I content myself with looking at the pictures. I find Japanese publications particularly useful when exploring unusual types of prints or prints on unusual subjects. In future blog post I hope to explore some of these more off-beat Ukiyo-e topics.
Recently, under the auspices of the Ota Memorial Museum of Art, the chief curator at that museum, Hinohara Kenji, published a very good and basic book on Japanese prints: An Introduction to Ukiyo-e, in English and Japanese. I highly recommend this book to anyone exploring the subject for the first time. It is an interesting overview of the subject. The prints selected to illustrate the text will give beginning collectors a good idea of the wide variety of subjects portrayed in Japanese prints. The book also includes a detailed and well illustrated section on print production and printing techniques. You can get the book from Amazon Japan at the following link.
For those with an interest in more esoteric subjects, Hinohara Kenji co-authored a beautiful book on Japanese woodblock prints of flowers: 浮世絵でめぐる江戶の花 (Ukiyoe de meguru Edo no hana). While the book is in Japanese, Latin names are given for the plants and flowers illustrated. It is a profusely illustrated book on an unusual subject. It is available from Amazon Japan at this link. (Used copies are sometimes available from Amazon in the United States too—check here.)